Posted by Tiffany Craft on Feb 6th 2019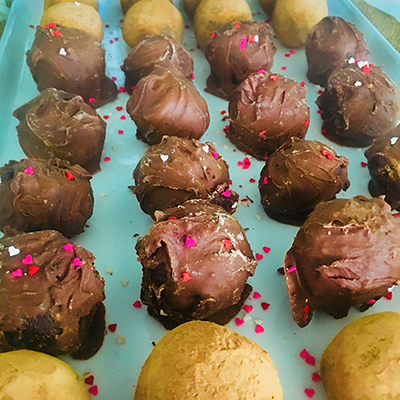 Chocolate is quite magical for raising the spirits. Apparently, there are over 380 compounds within chocolate that have profound effects on your brain chemistry and produce similar sensations to what one would experience with love and courtship. Is it any surprise that love and chocolate often go hand in hand? Naturally, our Infinichi team couldn't help but feel inspired to create a special treat for you to show loved ones how much their kindness and love means to you. These truffles are easy to make, rich in flavor and ever so decadent. Best of all, these beauties are completely natural and the customized essential oil blend will clear stagnant energy elevating your mood. Indulge happily!!!
Yields: 24 Truffles
TRUFFLE INGREDIENTS
8 ounces Semisweet Chocolate Chips (we use Guittard)
8 ounces Bittersweet Chocolate Chips (we use Guittard)
14 ounces Non-dairy Condensed Milk (see below recipe)
4 drops of Infinichi Love & Happiness Essential Oil Blend
1 Tablespoon Vanilla Extract
1 cup Cocoa Powder (for dusting)
Heart Sprinkles
Optional: 8 ounces Milk Chocolate Chips (we use Guittard)
Cookie Tray
Silicone Baking Mat or Parchment Paper
INSTRUCTIONS
Heat the semisweet and bittersweet chocolates in a double boiler over medium-low heat until the chocolate melts. Fold in the condensed milk until the mixture has a consistency similar to marshmallow fluff. Turn off heat. Add the Love & Happiness essential oil drops as well as the vanilla extract.
Remove from the stove, cover and refrigerate for approximately four hours. The mixture needs to be firm. This can also be made a day ahead so that it sits in the refrigerator overnight.
Line a cookie sheet with either a silicone baking mat or parchment paper.
Take the bowl out of the refrigerator. Let it come to room temperature. The chocolate needs to be soft enough to scoop out with a melon baller or spoon. Roll each truffle to be 1/2 – 3/4″ in diameter. Wash hands and dry thoroughly.
Place one cup of cocoa powder into a medium bowl. Dust your hands with cocoa powder. Now drop each ball into the cocoa powder and dust until well-coated. Place each ball on the cookie sheet as you prepare. After all of the balls are rolled and dusted, place the cookie sheet into the freezer for approximately 15 minutes so that the balls can firm up.
Optional: You can also make some milk chocolate dipped truffles if you would like. Melt the milk chocolate chips in a glass bowl using the microwave on low heat. Drop each truffle into the melted chocolate. Using a fork lift each truffle out of the bowl and place on the cookie sheet. use a toothpick to cut away excess chocolate formed around the ball. You must work very quickly if doing this method because the milk chocolate will harden again easily.
Serve truffles immediately or can be stored in the refrigerator for up to one week.
NON-DAIRY CONDENSED MILK INGREDIENTS
3/4 cup Raw Cashews (cover with room temperature water and pre-soak overnight – do not refrigerate)
1/2 cup Agave
1/4 cup Coconut Butter
2 Tablespoons Lemon Juice
2 Tablespoons Water
1 Teaspoon Vanilla Extract
Dash Salt
INSTRUCTIONS
All ingredients should be room temperature before starting. We recommend to use a Vitamix blender. However, if you are using a regular blender then you will want to drain the water from the cashews beforehand.
Place the cashews as well as all other ingredients into a blender. Blend medium-high. Scrape down the sides of the blender as needed. Store in a sealed glass jar until ready to use.