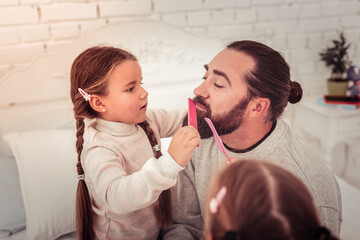 Actor Jim Carrey has vowed not to shave off his beard until everyone can get back to work after COVID and has challenged his Twitter fans to do the same. Plenty of other men who are working from home have also socially distanced themselves from their razors and are now sporting mustaches, beards, or both.
There are several styles of beards to choose from—the goatee, Van Dyke, Verdi, Balbo, circle, ducktail, old Dutch, mutton chops, chin strap, and chin curtain. There are many kinds of mustaches as well—the chevron, English, handlebar, paintbrush, pyramid, Fu Manchu, toothbrush, Dali, horseshoe, and pencil. Mustaches can stand on their own but are often combined either with a beard or an under-lip soul patch.
A man's head hair may be straight but have a beard that grows in super curly, and that is because the natural state of facial hair is for it to be curlier, darker, and coarser than the hair on the scalp. A short beard is an ideal choice for men whose chin growth is patchy or slow but for men with ample facial hair, a medium or long beard could work nicely. If a beard happens to grow in wild and bushy, there are bushy styles as well.
Some of the most sought-after beard styles today are "hipster" or lumberjack beards; the style is edgy and has a rugged sexy look that men are loving. Hipster beards are long, full, and luxurious, and are meant to be a bit shaggy and unkempt. A "yeard" is another new trend in beards—men simply let nature take its course and let their facial hair grow for a year without any trimming, grooming, or styling to see how it looks.
It is important to take the color and the style of a beard into account if the goal is for it to appear luxurious and thick. Cleaning up fast-growing stragglers and frequent trims can make a beard look surprisingly heavier and fuller, and men can press their beards against their shirts to fan them out and experiment with styles and colors of shirts to use as handsome backdrops for displaying their growth.
Hair follicles usually produce enough natural oils to keep a beard looking healthy, but they may not be able to produce enough oil to keep a long beard looking good. Beard balms are leave-in conditioners that can be applied to soften, moisturize, and condition facial hair, and some are enhanced with essential oils for a hint of fragrance. Facial skin underneath a beard needs a moisturizer as well, for a beard to look its very best.
Beards should be washed several times a week and patted dry with a towel. Men can try using the same shampoo and conditioner that they use on their head hair or seek out special products that are made especially for beards. Retailers are loving the growth of a market for beard and mustache grooming sets, beard soaps, beard balms, conditioners and oils, combs, brushes, scissors, and trimmers.
Most shorter beards and mustaches work just fine with face coverings, but if a man is required to wear a tight-fitting N95 mask, he may have to be clean-shaven or wear side whiskers, a mustache, or a soul patch. Three mustaches that probably do not fit under a mask are the Fu Manchu, the English, and the Dali because these styles would probably extend beyond the perimeter of a mask and interfere with its seal.
Facial hair for men seems to be an established trend and while opinions vary, many men and women view it as a symbol of masculinity and a hallmark of male attractiveness.